Generator Installation in Albany, NY
Conveniently Install or Replace Your Backup Generator in the Capital Region
Automatic backup generators are cost-effective and incredibly useful power-generating devices that are becoming commonplace in many residential situations. If you are in need of professional generator installation services for your Albany home, count on Mel Carr Electric for prompt and efficient service! We've been proudly serving Albany and surrounding areas since 1976!
Signs that you need to replace your generator include the following:
You have moved into a bigger home, which may lead to excessive fuel consumption that damages your generator
There are signs of corrosion or rust in your generator
There are visible signs of damage on your generator
Your generator is outdated (over 10 years of age)
You experience inconsistent power supply
There is a fuel leak
Easily get started with your professional backup generator installation in Albany of the Capital Region by calling (518) 500-3042 or contacting us online today!
How Do Automatic Backup Generators Help During Power Outages?
Should a power outage occur, an automatic backup generator will automatically sense the outage and start to power up your home within a few minutes After the power outage has subsided, the unit will automatically shut down and transfer back to the original source of power.
These units are sized to your exact specifications and have the ability to run your entire home during a power outage. There is no need to play around with switches or drag out a portable generator. This automatic system is extremely user-friendly.
Automatic generators operate from a natural gas or propane gas source. Our pricing includes all wiring, gas piping, installation of a carbon monoxide detector, and inspection.
What Are The Benefits of Temporary Backup Generators?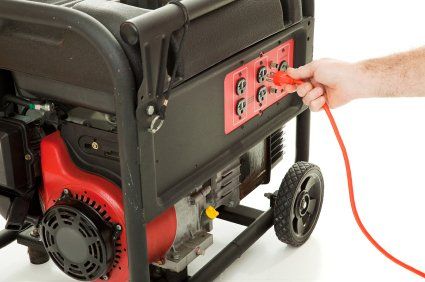 Temporary backup generators are a great cost-effective means of temporary power during a power outage. At Mel Carr Electric, we are fully qualified and experienced with the hookup necessary to make these units a part of your home safety plan.
In the event of a power outage, these units would be wheeled into place and plugged into an outlet on the outside of your home, away from any windows or entrances. Though we do not sell the generators, we would provide you with the correct cord and outlet to make this system run up to 10 circuits in your home! We also install a transfer switch to ensure that the power from the generator and the power from the power company are kept separate.
These units do require a little work on the part of the homeowner to get the power back during an outage; specifically, moving and starting the generator, and switching over the power at your panel box.
Generator Repair In Albany, NY
What are signs that your generator needs to be repaired?
Warning signs that indicate you need generator repair services include the following:
You run into difficulties starting your generator
Your generator is running, but it is not powering your home
Your generator is making strange sounds
Unpleasant smells are coming from your generator
It's been over 6 months that you've used your generator
Your generator fails frequently
If you notice any of the signs above, it's critical that you get your generator checked and repaired. Leaving a generator problem unnoticed may lead to serious damages and costly replacements that you can avoid with a timely generator inspection. Contact our generator repair experts in Albany, NY today to learn more about the warning signs to look out for, and to schedule a generator repair service.
Suggested Reading:
Learn more about our industry-leading backup generator replacement & installation services in Albany & the Capital Region by calling (518) 500-3042or contacting us online today!