Landscape Lighting Installation in Albany, Amsterdam, Colonie, Latham & Delmar
Outdoor Landscape Lighting Design & Installation
Landscape lighting can be one of the easiest and quickest ways to improve the appearance of your home. At Mel Carr Electric, our experienced electrical contractors are knowledgeable on many different styles and products of landscape lighting. They can offer you suggestions to light your home's exterior and customize an outdoor lighting solution to suit your personal needs.
Call Mel Carr Electric today at (518) 500-3042 to schedule a service for landscape lighting design and installation in Albany!
Outdoor Lighting for Safety & Aesthetics
Whether you are looking to improve the lighting of your Albany home's exterior for safety or curb appeal, there are many benefits to scheduling professional design and installation consultation from Mel Carr Electric.
Functional benefits of landscape lighting:
Appearance - adding outdoor lighting can have a dramatic affect on the beauty of your home's exterior. It is one of the easiest ways to improve the curb appeal of your home.
Safety & Security - not only can outdoor lighting help illuminate your path to prevent you from slipping and falling when walking up your walkway at night, but it is also a great burglar deterrent.
Walkway & Exterior Lighting
Adding walkway lighting can be an excellent safety precaution, as well as function as a decorative way to light your path at night.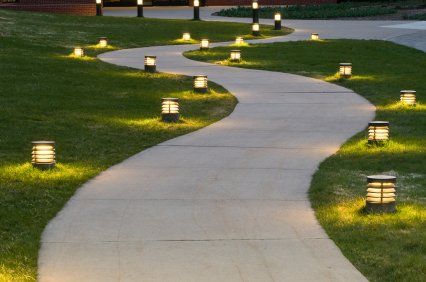 What a wonderful way to accentuate your beautiful landscaping by lighting up those shrubs, stonework, trees, fountains, flowers, and any other focal point in your front or back yard. Mel Carr Electric specializes in lighting house exteriors for a more glamorous and sophisticated look in the evening. This is a huge security benefit that can make your home even more special to come back to every day.
Can Outdoor Lighting Hurt Plants?
Landscape lighting can light up a lawn and highlight beautiful gardens. If you're worried about whether this light will hurt your plants or trees, the answer is probably not. After all, many green plants use light as an energy source.
It is important to understand the natural rhythm of certain plants. Certain flowers and foliage can be sensitive to prolonged exposure to light. But often soft lighting in your lawn should not be harmful. At Mel Carr Electric, our skilled electricians can help you design your outdoor lighting to showcase the best of your lawn all while making sure everything is safe.
Why Choose Mel Carr?
We offer up-front pricing with no hidden fees.
Our experienced, trained , and qualified technicians are able to effectively troubleshoot any of your electrical problems.
We offer a 100% satisfaction guarantee for our service and workmanship.
When you call you can expect to be greeted warmly by a real member of our staff.
We are well-known for our excellent customer service!