Electric Service Upgrades in Albany, Delmar, Colonie & Latham
Upgrading Homes Throughout the Capital Region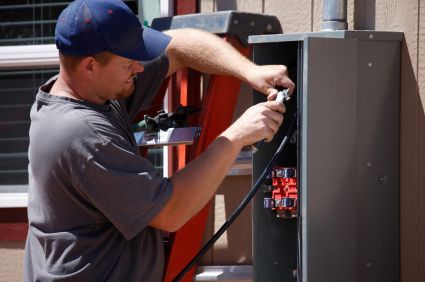 Do you still have fuses in your home? Does your circuit breaker panelbox look like a scary mess of wires? Do you have a Federal Pacific circuit breaker panelbox?
If you live in an older home with outdated wiring or have any other reason to believe your electrical service needs to be replaced, we would love to give you a written, up-front quote and options for replacement.
Call Mel Carr Electric at (518) 500-3042 to request an estimate. Located in Albany, we proudly serve customers in the Capital District area, Delmar, Latham, Colonie, Greenbush, Guilderland, Clifton Park, and the nearby areas.
Complete Electrical Upgrades for Your Home's Safety
Replacing your electrical service is the best choice you can make to update your electrical system where it enters your home. This includes installation of a new Square D QO brand circuit breaker panelbox and circuit breakers – the best in the business. We will replace your existing service wiring on the outside of the home, install a new meter enclosure for your electric meter, and make sure that your grounding system is up-to-date and functioning properly.
In most instances, on an overhead service your power company owns the electrical wires coming from the power pole overhead to your home. You only own the wiring and equipment from where the overhead wires attach to your home, down into the meter and into the electrical panelbox(es).
In most instances, on an underground service you own the underground wires from the transformer or "pad" all the way to your home. If you have any trouble with wiring you own, your power company will refer you to an electrician. We would be happy, and are fully qualified, to assist you in any of your electrical needs.
Are Federal Pacific Breaker Boxes Safe?
Between the 1950s and the 1980s, Federal Pacific Electric sold millions of breaker panels that have now been shown to have an unacceptably high rate of failure (approximately one-third of the panels produced are defective). Breakers on these defective panels may fail to trip, which means that the wires that should have been protected may overheat and start a fire. If your home still has a Stab-Lok panel from FPE, you should have the panel replaced by a qualified electrician for your safety and peace of mind. Mel Carr Electric can recommend a high-quality replacement product.
Signs You Need Electrical Panel Replacement
1. A fuse box - It has been decades since fuse boxes have been deemed less safe than circuit breakers because they don't regulate heat and can leave your property susceptible to electrical fires.
2. One tripped circuit after another - We're not talking about a tripped circuit every now and then, but if you're rolling your eyes they happen so often call in our Albany electrical panel replacement experts.
3. Flickering lights - Some of your electrical appliances like your AC and refrigerator might take up more electricity than you think. If your lights are flickering it's a sign your electrical panel is spread too thin and a new electrical panel replacement could help you get your grid back in working order.
4. Your adding to your home - If you're renovating and adding additional space, you may need a bigger AC and some more lighting. This means you'll need to consult our Albany electrical panel replacement specialists to get a unit that can keep up.
5. Visible signs of wear and tear - If you get an electrical shocks or observe any rust, it's another sign you might want to consider upgrading your electrical panel.
We specialize in the installation of new electrical services and offer discounted pricing for having an entire electrical service replaced. Call (518) 500-3042 to begin your electrical panel replacement or appliance upgrade today!